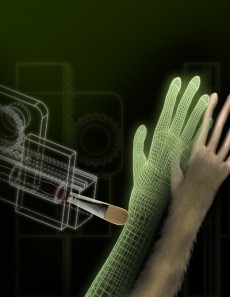 http://www.dukehealth.org/health_library/news/touch-and-movement-neurons-shape-the-brain-s-internal-image-of-the-body
Miguel Nicolelis is one of the main contributors to brain machine interface.  In a series of innovative experiments, he demonstrates the intricate connections in the brain, attempting to create a coherent model of multi-sensory input.  His recent experiment shows that monkeys can be tricked when the multi-sensory input is only partially coherent.
A related study from Stockholm's Karolinska Institute describes humans distorted self perception due to incoherency between visual and tactile input.
In the Nicolelis study, untrained monkeys were implanted with up to 384 electrodes to analyze how stimulus was encoded by the monkey brain. The monkeys were then shown a virtual simulation of their arm being touched, while simultaneously having their own arm touched. After a few minutes of synchronized stimulation, the physical component was removed. The areas of the monkeys' brains responsible for tactile sensations, however, continued to respond to the virtual simulation, indicating that they felt physical sensation simply through visual association. The monkeys' neuronal responses to the virtual stimulation came later than the responses to the physical stimulation. This suggests that the sensation was mediated by a longer pathway involving the visual system.
Instead of previously imagined single neuronal pathways, seemingly unrelated cortices apparently use a highly dynamic, cross functional process to form more of a continuously interacting grid or network. They also appear to cooperate quite closely in shaping the body schema, or the brain's internal representation of the body